https://ifee.edu.vn/en/news/news/spatial-analysis-as-a-tool-for-developing-provincial-redd-action-plans-handbook-34.html
This handbook is the product of a collaboration between the Institute for Forest Ecology and Environment – Viet Nam University of Forestry and the UN-REDD Viet Nam Phase II Programme. Phase II of the Viet Nam National Programme began implementation in 2013 building on the key achievements of the Phase I programme (2009-2012). It is designed to reduce emissions in six provinces, working with provincial, district and commune authorities, local communities and the private sector, with the objective to "enhance Viet Nam's ability to benefit from future results-based payments for REDD+ and undertake transformational changes in the forestry sector".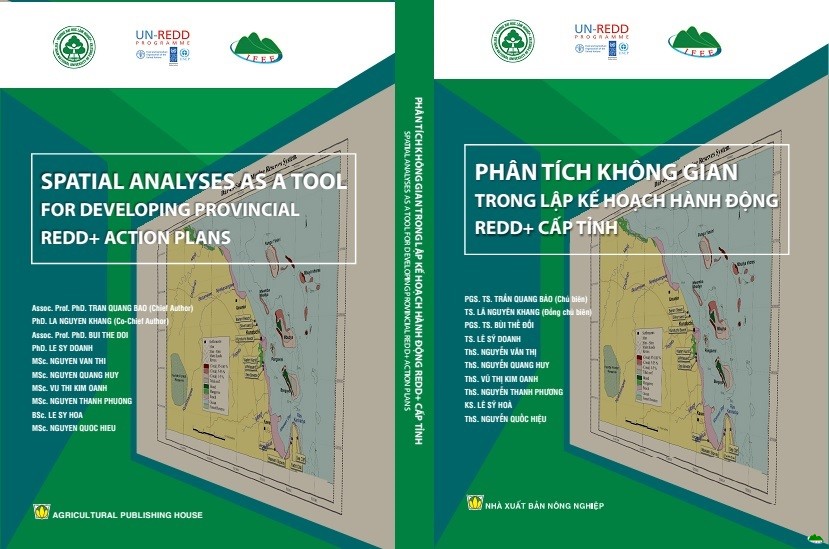 Viet Nam's 2017 NRAP(Decision No. 419 / QD-TTg dated 05/04/2017) stated which the provinces were required to develop PRAPs. Spatial analysis has been applied in the process of developing PRAPs, which define an action plan for the strategic implementation of REDD+ in a province, tailored to local conditions. This handbook provides an introduction to the use of spatial analysis to support PRAPs, based on the experience of developing these plans for provinces in Viet Nam in recent years.

This book is presented by both English and Vietnamese, including 8 Chapter:
Chapter I. Introduction:This chapter introduces general information about spatial analysis, and the approach and main stages of developing provincial REDD+ action plans (PRAPs)1.
Chapter II. Designing spatial analysis to support the PRAP process:The design of spatial analysis to support the PRAP process involves defining both the necessary steps and methods/techniques required to generate the information deemed relevant. Steps need to be arranged in a logical order to ensure the timeliness and accuracy of the outputs.
Chapter III. Preparing and collecting data:This chapter presents the content of data preparation and collection for development process of Provincial REDD+ Action Plan.
Chapter IV. Generating thematic maps:This Chapter presents the structure of the thematic map and steps for developing the thematic maps in the PRAP process.
Chapter V. Analysis of forest cover change, drivers, and barriers:This chapter provides an overview of the analysis to evaluate changes in forest cover, and thus identify drivers of deforestation and forest degradation, as well as barriers to REDD+ "+" activities; Participatory mapping techniques for analyzing fluctuations in forest resources are also discussed.
Chapter VI. Building maps of priority areas for implementing Redd+ activities/interventions:This chapter presents methods for mapping priority areas to implement REDD+ activities included in a PRAP.
Chapter VII. Identifying and designing interventions:This chapter focuses on identifying and designing the interventions for the
PRAP.
Chapter VIII. Field verification and evaluation:This chapter describes techniques and methods to conduct field validations to help evaluate the interventions to be included in a PRAP.
Institute for Forest Ecology and Environment would like to introduce the full text (in English and Vietnamese) of the book at the address:
English version:Handbook_Spatial Analysis_EN.pdf
Vietnamese version:Handbook_Spatial Analysis_VN.pdf
Copyright: UN-REDD Vietnam Program Phase II.

Any article using the content in the book please cite the source:Bao, T.Q., Khang, L.N, Doi B.T., Doanh, L.S., Thi, N.V., Huy, N.Q., Kim Oanh, V.T., Hoa, L.S., Phuong, N.T., Hieu, N.Q. (2017).Spatial Analysis as a Tool for Developing Provincial REDD+ Action Plans.UN-REDD Viet Nam Phase II Programme, Ha Noi.


Should readers wish to comment on this handbook, they are encouraged to get in touch via Nguyen Thanh Phuong: phuong.nguyen@un.org or La Nguyen Khang: languyenkhang@ifee.edu.vn